The NFL is back, and she greets us with an absolutely stacked week one slate. There are plenty of games that have will my attention, and a lot that may answer some questions about teams that we have had since March.
In this weekly series, I will rank the games from worst to first, and tell you what I'm most looking forward to.
#16 – Bengals @ Seahawks, Sunday 4:05 PM
Neither of these teams will make the playoffs. With the Seahawks playing at home they will win handily. This makes for a pretty low-wattage AFC-NFC match up.
#15 – Ravens @ Dolphins, Sunday 1:00 PM
It's the NFL – so anything can happen, except for the Dolphins winning against the Ravens in week one.
#14 – Redskins @ Eagles, Sunday 1:00 PM
The NFC East can always throw you for a loop, but the Eagles have one of the most talented rosters and well run organizations in the NFL. The Redskins have one of the least talented rosters and are one of the worst run organizations in the NFL. You take your pick.
#13 – Broncos @ Raiders, Monday 10:20 PM
I've pretty much sold all of my Raiders stock, knock on wood if you're with me. The Raiders have something like 11 rookies on their final 53-man roster, so even if you believe in the future of this team, which I don't, a rational person would have to understand that 2019 isn't the year it's going to come all together for the silver and black. The Broncos have Joe Flacco as their QB, so I'm wholly uninterested in this one.
#12 – Colts @ Chargers, Sunday 3:05 PM
This would've been a candidate for game of the week if not for the retirement of Andrew Luck. Now it's way further down the list. Part of my dis-interest also goes with that I'm not that into the Chargers this year.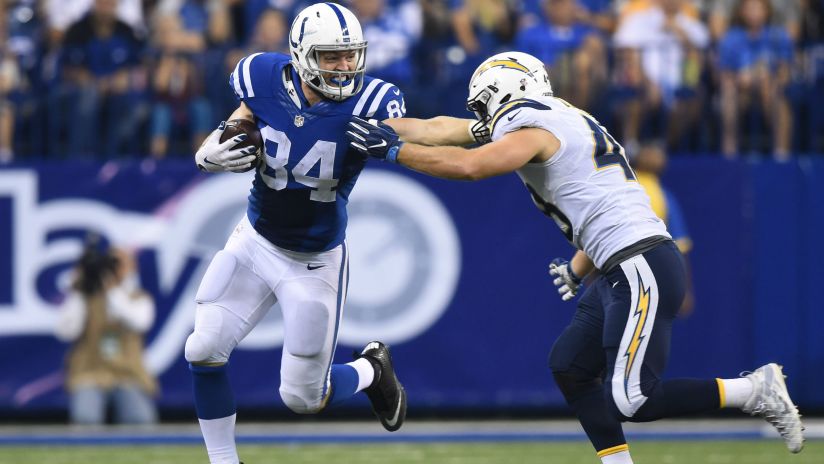 #11 – Giants @ Cowboys, Sunday 4:25 PM
Zeke is back with Dallas so that makes things even worse for what I see as the worst defense in the league for New York. This NFC East showdown will likely make the ratings soar, but won't be pretty to watch.
#10 – 49ers @ Buccaneers, Sunday 4:25 PM
This game is interesting because it features two teams that have under-achieved recently and have reason to be hopeful for 2019. I'm just not one of those hopeful people. It'll be a good game, but one that ultimately won't matter when we get to December.
#9 – Rams @ Panthers, Sunday 1:00 PM
I'm not sure what exactly is keeping me from being super excited about this game. LA is coming off a Super Bowl appearance, and the Panthers have a lot to prove with Ron Rivera on the hot seat. Still…eh.
#8 – Titans @ Browns, Sunday 1:00 PM
Two AFC fringe playoff teams get a crack at each other week one. Murray put the Dawgs on upset alert when he made Tennessee his "risky survivor". I kind of like that, although I'm sticking with the Browns. How bad will that offensive line be?
#7 – Lions @ Cardinals, Sunday 4:25 PM
Yes I'm biased. I pay $99 a year for this domain though so go make your own site. The Lions are a team who I thoroughly believe have playoff potential. The Cardinals have totally changed identities in an offseason, and this is Kliff and Kyler's debut into the NFL. Can they make a Big 12 offense work in the NFL?
#6 – Bills @ Jets, Sunday 1:00 PM
These are the two teams competing for 2nd place in the AFC East. Can one of them make an early statement. I'm on the Bills at the moment but have been going back in forth in my mind on this one even post pod. Do I make a Shady-esque tinker time switch in my Bills pick 5 minutes before kickoff? Stay tuned.
#5 – Chiefs @ Jaguars, Sunday 1:00 PM
The Chiefs have Mahomes, but can the Jaguars defense return to 2017 form and put the plug on him? It's also the debut of the Foles era. He has decidedly less talent than in Philly, on the field and on the sideline. Lots of things to watch for here.
#4 – Packers @ Bears, Thursday 8:20 PM
I'm hoping for a 6-6 tie. The Packers bring LaFleur in to replace McCarthy, but I'm not very big on him. I'm also not a Trubisky fan. However, the kickoff game atmosphere and the rivalry make this one a must-watch.
#3 – Texans @ Saints, Monday 6:10 PM
With Tunsil now along the line, the Texans became true contenders in the AFC. They start the season with a chance to make a huge statement win on the road. New Orleans is coming off two devastating playoff exits, can they regroup to make another run?
#2 – Steelers @ Patriots, Sunday 8:20 PM
I think the Steelers will do much better than people think this year, and it all starts with a win at Gillette. The Patriots will regroup, but they always seem to struggle early on. They have more things to work through this season than in years past.
#1 – Falcons @ Vikings, Sunday 1:00 PM
This could be a NFC Championship game preview in September. I'm very high on both of these teams for 2019-2020, and think this will be the best played game of the week. Give me my Super Bowl pick Atlanta in a close one, 31-28.