A Super Bowl prediction already in mid-July? That's just what we like to do here at the BackJudge.
Welcome to the third installment of my 'Overnight Bus' series, a collection of thoughts about the 2019-2020 NFL year attained from my overnight bus ride through Vietnam. Previously I have looked at the current state of the Green Bay Packers and Pittsburgh Steelers, and also told you why I believe in the Buffalo Bills as a sleeper team this season. Now, I will make the most significant prediction one can make for a NFL season, their Super Bowl pick.
In this article, I will tell you why I believe the Atlanta Falcons will win Super Bowl LIV.
The Falcons made the Super Bowl back in 2017 and lost in excruciating fashion, blowing a 24 point lead in the second half to finally lose in overtime, the first ever Super Bowl to go into overtime.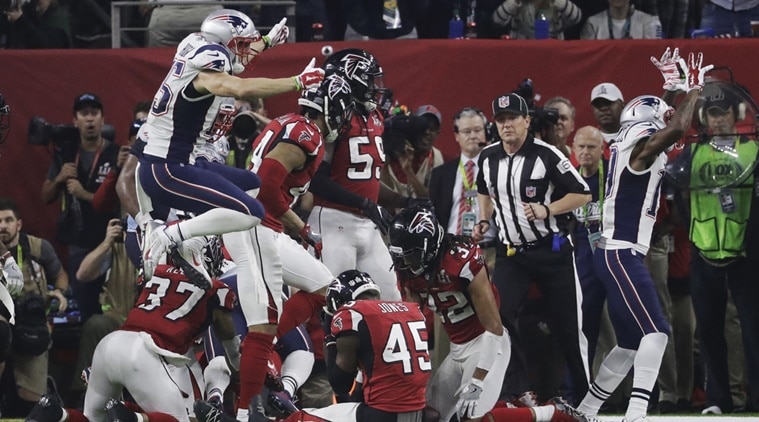 The next season they beat the Rams in the Wild Card round, but lost to the eventual champion Eagles in the divisional game. Last year in 2018 the Falcons missed the playoffs and posted the first losing record of the Dan Quinn era, finishing 7-9.
So why am I picking a team that has only regressed since their Super Bowl collapse and missed the playoff altogether to win their first Lombardi in franchise history this season? It all starts with #2.
Matt Ryan is one of the most under-appreciated quarterbacks in football. To me, he is Top 5 in the NFL and I would take him over Aaron Rodgers and Drew Brees going into the 2019 season. No, I am not saying he has a better legacy than Brees or Rodgers, however if I had to choose between those 3 guys to play QB for my team in 2019, I would choose Ryan, and here's why.
Ryan to me has proven he is a guy that no matter what is around him, he will perform at an elite level. I usually don't like to rely on the use of stats to prove my points, however in Ryan's case I feel that they are relevant.
In 2018, Ryan threw for 4,924 yards, 35 touchdowns, and 7 interceptions. That is absolutely insane. The only other quarterback to play the entire season and throw less picks was Drew Brees with 5, and he had 119 less pass attempts than Ryan did. Ryan also put up those numbers with a running game that ranked 27th in yards gained and 30th in total attempts. The offensive line was also nothing special, giving up 42 sacks which was the 13th most in the league.
Yes, you can argue the reason he put up such big numbers are due to Ryan's 3rd most passing attempts (608), but that doesn't matter much to me. Despite defenses knowing Ryan had to carry the offense on his shoulders with a weak running game, having the 3rd most attempts and tied for the 2nd lowest interception total in the league proves that he was the most effective quarterback in the NFL last season.
I also think this offense can become more balanced with the addition of Dirk Koetter at offensive coordinator. Steve Sarkisian was not the answer in Atlanta, and while he had big shoes to fill after Kyle Shanahan, his overall approach and especially red zone play-calling were frankly just not good enough. Koetter brings familiarity as he was the offensive coordinator from 2011-2013 before leaving to Tampa Bay. While he maybe wasn't fit for the big chair in the NFL, a relegation back to his roots as well as some good lessons learned can't hurt.
The running game was an issue last season as mentioned before, but I'm willing to blame this mostly on not having Devonta Freeman and injuries to guys like the now retired Andy Levitre along the line. Freeman does have an injury history so he's far from a sure bet to be there all year, but when healthy he's an elite back and playmaker. Ito Smith should also see more touches with Tevion Coleman leaving town. He's a spark-plug of player who can play a Tarik Cohen type role for the Falcons.
Going back to the higher sack numbers, the Falcons picked two offensive linemen in the first round of the draft this year. Chris Lindstrom was picked first at #14 overall, and the guard will likely start right away on the right side of the line. The Falcons jumped into the back end of the first round to select the Washington tackle Kaleb McGary 31st overall, and while I liked guys like Risner and Ford better at that point, I can't criticize the Falcons too much for getting their highest rated guy. McGary will compete with Ty Sambrailo and free-agent signing Jamon Brown for the right tackle spot, but I would expect McGary to win that. Lindstrom and McGary were a much needed injection of youth into this line, and while they were not exciting picks they were the picks that needed to be made.
The reason this team went 7-9 last year was because of the injuries sustained to its defense. Both safeties Keanu Neal and Ricardo Allen were lost for the year in September, and star linebacker Deion Jones who recently signed a big extension missed 10 games. While I would expect Neal and Jones to make a full recovery, it remains to be seen how effective Allen will be considering he is coming back from an Achilles tear. He has been practicing with the team in the offseason but most players who suffer that injury never play at the same level again.
The injuries in the secondary did allow for others to shine, namely Demontae Kazee. He's a versatile defensive back who recorded 7 interceptions in 2018 and his continued growth will be a big key for success for the entire unit. Corner Isaiah Oliver was also not relied upon as a started in 2018, but he is expected to be a main piece of the secondary this year. Grady Jarrett got locked up to a long term deal and he will serve as the anchor to the d-line for the future.
Dan Quinn will also be taking over play-calling duties for the defense. Quinn was the defensive coordinator in Seattle before getting hired in Atlanta, and I feel that him taking more control over the defensive game plan will be a positive thing.
Even with the players coming back from injury, there's still valid concerns to be had with the defense. While Grady Jarrett can provide pressure from the inside, Takk McKinley and Vic Beasley have yet to prove they can be consistent 10 sack a year guys in the NFL. Duke Riley has been a massive disappointment and is likely on his last chance with the team after the emergence of Foye Oluokun last year. They also did not add much to this group in the offseason other than bringing Adrian Clayborn back, and the Falcons didn't draft a defensive player until corner Kendall Sheffield in the 4th round. Overall, the defense isn't going to be dominant. With better coaching and key players returning from injury they're not going to be worse than they were last year, and they're not nearly bad enough to be the reason why this team can't make a Super Bowl run.
Digging even a little deeper into this upcoming season, the Falcons play 13 of 16 games inside a dome. The three games they play outdoors will be in Carolina, San Francisco, and Tampa Bay. The climate controlled away schedule really helps this team, and allows the offense to stay consistently attacking on a week to week basis.
Everyone seems to be sleeping on the Falcons, but I'm not. They play in a tough division, but those type of tests throughout the season will only make them more primed to win tough games when the calendar turns to 2020. Matt Ryan and the Falcons are quietly one of the best teams in the NFL, and Miami is in their future.