The Back Judge is back.
After a successful Draft Season, it was time for a vacation. I took a sabbatical to South East Asia where I visited the Hanoi Hilton, rode a motorbike, and ventured into the tunnels of the Viet Cong. Most importantly I took an overnight bus from the city of Hoi An to Da Lat, which frankly was one of the most miserable experiences of my life. The trip totaled 15 hours, and I was stuck in a lay down seat not built for the size of an American. The bus was oversold so some people were left to lay in the aisles, and my seat was right underneath an emergency exit which meant there was a light on the entire ride, making sleep quite difficult.
After a bathroom break at the world's worst truck stop, my morale was in the gutter. We had only been on the road three hours, and my phone was already down to 60% since I downloaded and watched 'Moneyball'. (If your allergies didn't start kicking in when Billy Beane put his daughter's mixtape in the CD player, you're soul-less).
There was only one thing I could do. Immerse my mind into the world of NFL football.
With the iPhone powered down, I pulled my hat over my eyes to shield them from the emergency exit light. For the next two hours I reached a meditative state only previously achieved in a Silent Reflection. Both conferences, each division, and every team was thought through as our bus flew through the Vietnam night. When I emerged from my subconscious, I had successfully unearthed NFL takes and observation that are shaping the way I'm viewing this upcoming season.
I am excited to turn my thoughts into word with this new article series I am calling 'The Overnight Bus'. In the first installment, I am giving you what I believe is the most intriguing storyline of the 2019-2020 NFL League Year that absolutely NO ONE is talking about.
The Green Bay Packers and the Pittsburgh Steelers are two of the NFL's most influential organizations. They have combined to win 10 Lombardi's, have had the league's legends like Bart Starr (Rest in Peace), Terry Bradshaw, Brett Favre, Mean Joe Greene suit up in their threads, and currently have two of the NFL's best quarterbacks on their rosters in Aaron Rodgers and Ben Roethlisberger.
The Steelers last won the Super Bowl in 2009, now a decade ago. The Packers last won in 2011, where they beat the Steelers. Since Super Bowl XLV however, neither team has been back to the bowl despite the head coach and quarterback staying the same in every season after.
High expectations have met disappointing results since. The Packers have made the NFC Championship game twice since 2011 in 2014 and 2016, but lost both contests. The Steelers made it back to the AFC Championship game in 2016 as well but lost to the Patriots.
In 2018, both the Steelers and Packers missed the playoffs. Mike McCarthy was fired in Green Bay, and Antonio Brown was essentially fired in Pittsburgh. Both of these teams now find themselves on the brink in 2019. With aging quarterbacks and a recent seasons that have not met the lofty expectations established by history and the successes of the early 2000s, it's do or die time for the Packers and Steelers.
Since 1993, the Packers have had two starting quarterbacks, Aaron Rodgers and Brett Favre. Their organizational success in bridging these two brilliant careers together cannot be overlooked, however it should be understood that appearing and winning in two Super Bowls is a little bit of an under-achievement for having elite play at the most important position in sports for over 25 years now.
Things have also been unraveling as of late in Wisconsin. More than one article detailing behind the scenes drama with the Packers has come out in this offseason alone, most of it dealing with the tumultuous relationship between Rodgers and now former head coach Mike McCarthy.
In comes Matt LaFleur, formerly the offensive coordinator of the Tennessee Titans. He is from the McVay coaching tree, and there are more than a few questions about his ability to be a head coach in the NFL. He was only an offensive coordinator for one season, and it's not like the Tennessee Titans were a very strong offensive team last year. Obviously Rodgers is a huge upgrade over Mariota, who just isn't that good, but LaFleur also deserves some blame for their struggles, specifically when it comes to how he utilized the running back position.
Now that LaFleur is in town, there are still bizarre headlines coming out of Green Bay even before training camp begins. Already there seems to be a power struggle between the rookie HC and Aaron Rodgers when it comes to how much control Aaron Rodger has at the line of scrimmage. Recently Rodgers was quoted saying  "I don't think you want me to turn off 11 years. There's stuff that not many people in the league can do at the line. That's not a humble brag. That's just a fact.".
My concerns with the Packers don't stop with the questionable hire of LaFleur and Aaron Rodgers' general arrogance. They're only starting.
The Packers screwed up the Draft. They had two first round picks due to a trade with New Orleans in 2018, and used both of their picks on defensive players, which shocked me. Rashan Gary the defensive end from Michigan was the pick at #12, and I don't think Gary was a smart choice. Gary's entire career has been projection over production, and is considered a guy who despite pure physical and athletic ability hasn't put it all together yet. Green Bay also paid big money to pass rushers Preston Smith and Za'Darius Smith in free agency, so I didn't see an edge guy as a position of need for the Packers.  They are betting that Gary will be a better pro than he was in college, but I don't think it's likely.
At the back end of the first round, they traded up to select Darnell Savage, the safety from Maryland. I like Savage, but I thought #21 was a little too high for him. Especially because the Packers could have stuck to their original pick and drafted a guy I like more in Nasir Adderly. They also have spent money in free agency in the secondary with Adrian Amos this offseason, as well as two high picks on corners in last year's draft with Jaire Alexander and Josh Jackson, and even going back to 2017 they used two 2nd round picks on Washington corner Kevin King and NC State safety Josh Jones. Using another high pick on a secondary player just didn't make much sense to me either.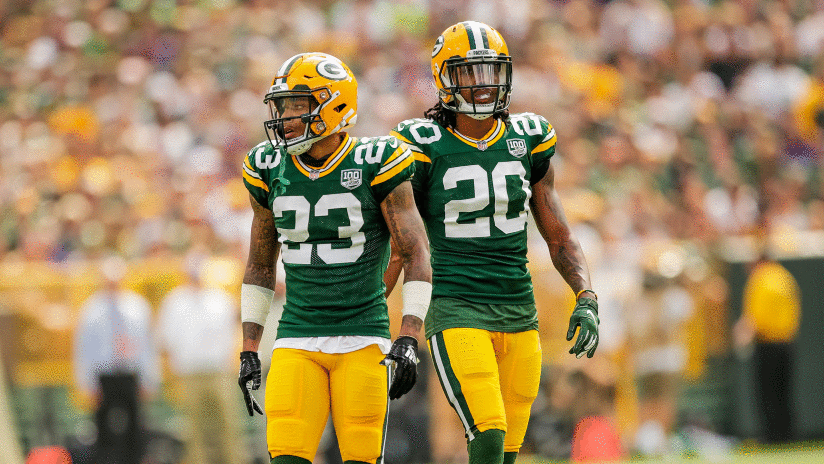 The Packers have sunk a lot of resources into their secondary and haven't received great results.
More than anything though, I thought the Packers ignored their two biggest needs in the first round of the draft, receiver and offensive line. In the 2nd round they selected Elgton Jenkins, and interior lineman from Mississippi State which I thought was their best selection of their class. However, they could've picked guys like Chris Lindstrom, Garrett Bradbury, or Cody Ford earlier, all who I like more than Jenkins. Jenkins was also the only o-lineman they took in the draft, and I felt like the Packers should've taken at least two in the first 3 rounds.
Not only did the Packers not spend a high pick on a receiver, they didn't even draft one at all. Especially after not singing one in free agency as well as losing Randal Cobb, this came as a shock to me. I will say that I think Marquez Valdes-Scantling is going to have a breakout year in 2019, so this will mitigate some of the issues they may have at receiver, but to not add anything to that room was a mistake.
I see the Packers as a team trending in the wrong direction. I think the roster as a whole is pretty bad, and if not for Aaron Rodgers this team wouldn't have a prayer of winning the NFC North. There's a lot of time left before the season begins so I'm not trying to make any predictions yet, but at this point I just don't believe the Packers will be a playoff team in 2019.
The Pittsburgh Steelers have undergone a rough past two seasons filled with more noise off the field than on it. The two players most responsible for the distraction and disruption were Le'Veon Bell and Antonio Brown, both of whom are now on different teams. Some of the blame for the team dysfunction also needs to be placed on Mike Tomlin and Ben Roethlisberger, but I believe with Bell and Brown out of the picture things will go a lot smoother in the Steel City.
The Steelers made the best move of the draft by moving up to the #10 selection and drafting Devin Bush Jr. from Michigan. This kid is going to be a perennial pro-bowler, and in my opinion the next great Steeler on defense. They did have to give up this year's second round pick to get him, which left some holes on the roster, but ultimately this move will pay off for them.
Pittsburgh didn't make any big splashes in free agency, however signing Mark Barron and Steven Nelson were nice additions to the defense. Bringing in Donte Moncrief can't hurt, but I think the task of replacing Antonio Brown's production will lie in the hands of guys already in-house, mainly JuJu Smith-Schuster but also guys like James Washington or Eli Rogers.
I do think the Steelers are still shaky in their secondary. They brought in a Leigh Murray favorite in corner Justin Layne from Michigan State, but the Steelers unfortunately did not see much growth from their young defensive backs Sean Davis and Artie Burns in 2018. With the signings of Nelson and drafting of Layne, the Burns experiment may even be over in Pittsburgh. Terrell Edmunds was a surprise pick at the end of the first round in 2018. Edmunds is young and he started 15 games in his rookie season, but he only had one pick and forced no fumbles, so the Steelers are going to need more ball production out of him in order to get the proper return on their investment. This unit last year also probably dropped more picks than any other team, and had one of the biggest blunders of the entire season against the Chargers. One positive thing for this group however was the hire of Teryl Austin, who brings loads of experience to the table.
Despite this, I think the Steelers are set to have a nice season in 2019. It'll depend on Ben Roethlisberger who I believe has 2 good football years left in him, but the combination of JuJu Smith-Schuster and James Conner should be good enough to make this offense a respectable one in 2019.
The Steelers and the Packers both find themselves in similar situation going into this 2019 season. Your prediction is as good as mine when it comes to how they will do on the field, but both of these teams are in need of a good season.