Khalil Mack was traded to the Bears, which is pretty bizarre on its own. Rarely in the NFL do you see top talent ever traded, and Mack is a guy who is on a hall of fame track. There is some speculation (and merit) to the idea that the Raiders literally did not have the cash on hand to pay him the up front guarantees he desired. With the pending move to viva Las Vegas (and the mega-deal for Gruden), Owner Mark Davis is running low on funds. The money is only the beginning of the insanity happening in Oakland right now.
Mack is the perfect capstone for what has been a wild first off-season under Jon Gruden. It's very clear who wears boxers and who wears briefs in this building, as Reggie McKenzie has been effectively thrown into the bowels of Oakland Coliseum left to fight with the rats over the stray nacho chip that fell out of the hand of an Athletics fan. The current system reminds me of what happened in Philadelphia between Chip Kelly and Howie Roseman. That doesn't bode well for Gruden.
The cavalier type approach chucky has taken is surprising to me, as this is a team who just two seasons ago were legitimate Super Bowl contenders until Carr broke his leg. A simple re-tool and a fresh message probably would've sufficed. Instead, they recklessly traded away a third round pick for Martavis Bryant (he doesn't even know the playbook), and drafted Arden Key and Mo Hurst in the later rounds, players who are huge risks that could pay off in a big way – or irreparably damage your roster depth. They also cut 2nd round pick from 2017 Obi Melifonwu.
Going back to Mack, I don't really know how you address the team after this news. My best guess would be that it isn't addressed, since Gruden and his massive ego have never even spoken to Mack since taking the head coaching job. The optics of this aren't great. If I were a player on this team, I would be livid that Mark Davis has enough laying around that he can pay his great white buffalo Jon Gruden, who hasn't coached in 10 years, $100 million dollars, but can't give anything to the best player on the team.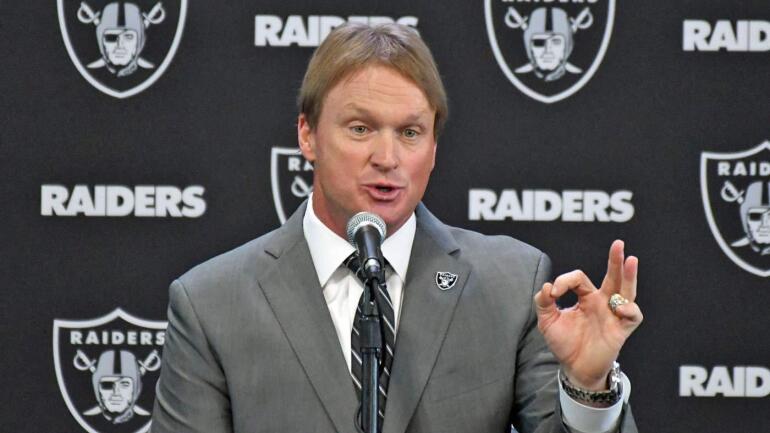 Everything that has gone on so far in Oakland reeks of a third-world organization. An incompetent owner who is poor, a coach who was drawn out of a broadcast booth for the first time in 10 years that possesses the power of a dictator, and a move to Vegas because, oh yeah, the owner is poor. Stephen Ross, the owner of the Miami Dolphins, was the lone owner to dissent in the move to Vegas vote because he believes if you own a NFL team you should be able to pay for your own stadium. In week 3, the Raiders travel to Miami. I'm so here for this sneaky rivalry game, and I hope they put up a boxing ring at mid-field for Davis and Ross to duke it out for the half-time entertainment. Dolphins 38, Raiders 13. #IssaWrap.
Oakland is one of the great football cities and fan bases.
Thanks for ruining it.
Okay, deep breaths. What is done is done in Oakland, and Khalil Mack is now a Chicago Bear. The full details have not been disclosed, but the package will include their 2019 and 2020 first round picks. Along with the massive extension you have to give Mack, this is a huge price to pay. Despite that the draft has not been especially kind to the Bears as of late (Kevin White). Ryan Pace has shown aggressiveness from his GM post as of late, from the Trubisky move, to getting many high caliber free-agents, and now Mack. The all-in attitude is invigorating, and the Bears are undoubtedly feeling as confident as ever. Vic Fangio never has had a top tier rusher for his 3-4 defense. Mack is also one of the leagues best game-breakers, many of his best plays and sacks come in the 4th quarter.
Leonard Floyd has been good, but has not played up to the standard that his 9th overall pick would suggest. With that being said, bringing in Mack should also free up Floyd, so he could see more improvement. It also is going to help out Roquan Smith, the rookie linebacker. Just about the only knock on him coming out was that he may struggle if there isn't a great presence along the d-line. Consider that null and void. The Bears are getting better across the board at linebacker with this trade (pending that Floyd is not on a plane to Oakland as I type).
The Bears will be better than they were last year. That is without question. However no matter who they trade for, or who they draft, any hope of real success rides on Mitch Trubisky. As it stands now, I would rather have Deshaun Watson or Pat Mahomes, the two QBs drafted after him. I think Trubisky lacks an 'it' factor that Watson and Mahomes both possess. He projects to me as Andy Dalton.
With that said, I could obviously be wrong. With a new offensively minded head coach Trubisky could take the league by storm and bring the Bears to the playoffs. With Mack now in the division, Cousins, Stafford, and Rodgers all will lose a little sleep this week.
Week one Bears @ Packers Sunday Night Football just got a little more saucy.